The last time I had a good look at my two websites after one of them had been hacked (my fault, I haven't been updating them promptly enough), I was shocked to realise that it's been a year and a half since I've posted anything here (or on the other site). This wasn't intentional or planned – it's just that real life took precedence over all of my "less crucial" interests (which, unfortunately, included all of my ongoing musical and literary pursuits). Due to my relocation from Berlin to the Canary Islands and all of the issues this has involved, what I had once almost thought of as a "calling" of sorts was swiftly downgraded to "hobbies" as soon as reality kicked in. I spent many months fretting over this, especially as the third full-length Cynicism Management album (which had been almost finished by that time) and my related third novel (also well on its way to completion) had screeched to a painful stop. I had no choice but to gradually get to terms with the unplanned hiatus and stop nagging at myself: I figured that music and writing would once again become more important to me once I settled down properly.
The problem is this little adverb, "properly". While I did set up a small improvised studio in the flat as soon as the renovations had been completed to at least some degree, this did not happen until about a year into the move. There was simply too much to do around the apartment first. However, the improvised excuse for a studio was such a bummer after the relative luxury I had enjoyed in Berlin (where I had been renting a decently-sized room in a highly secure building dedicated solely to rehearsal rooms and studios, and where I had all my instruments including drums and microphones set up and ready to go at all times) that I was simply unable to muster the energy and motivation required to work on anything very seriously. To avoid inevitable frustration with the abysmal acoustics of my temporary workspace, the inability to mix anything at a reasonable volume without headphones, etc., I restricted myself to mere "tinkering".
Currently I am still at the "tinkering" stage, but at least I can see the light at the end of this particular tunnel now: after many failed attempts to set up a studio elsewhere (rent a basement or a garage somewhere or whatever), my wife and I are now once again resolved to simply build a room in the abandoned basement of our apartment building (a failed attempt at a car garage, don't even ask) – in spite of some pushback from the neighbours who, obviously, dread the prospect of having someone banging on the drums down there. I'll clearly have to invest in some serious sound insulation – but that is self-evident, anyway. The place where walls should come up eventually currently looks like this: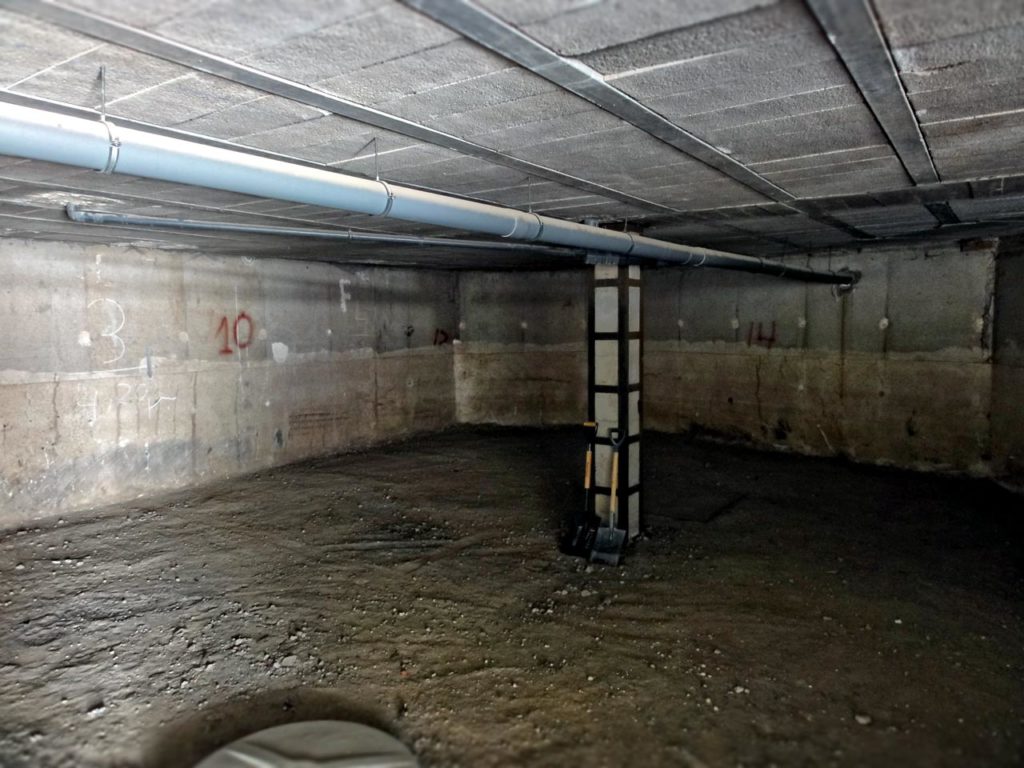 The very decision to start cleaning out the mess from the basement and start transforming a section of it into something useful – the place (currently used for nothing but dirt storage) is huge and I only need the part that theoretically goes with our flat – seemed to reanimate at least some of my unfinished projects and bring them back from deep hibernation.
While I still can't record properly, I've decided to finally exhume the material for the potential 10th-anniversary reissue of Tit, the first Cynicism Management album. So I started reworking the songs that are almost a decade old by now (unbelievable…), simply because I still love them and I'd like to finally make them sound as they should have sounded a decade ago. I am not talking about a "remix" or a "remaster" or some "deluxe" version of the album, as is usually the case, but rather about a complete reworking of the songs complete with drum replacement. As it happened, ten years ago, when we were making the original Tit, I was unable to record acoustic drums the way I wanted to… But I managed to record them a few years later, while I had unprecedented access to a suitably-equipped studio. I have stored the recordings carefully ever since precisely for this possibility.
On the other hand, I have also started mixing the upcoming Dog Days album and preparing the material for the last missing ingredient: the vocals, which Monika, the Cynicism Management vocalist upon whom all of the new songs hinge heavily, can record as soon as our real studio is eventually up and running.
On the literary front, Dog Days, my third novel, remains at a standstill (yes, it carries the same title as the album, as the text will contain or refer to audio tracks once again, just like Cynicism Management and Pendulum Pet).
However, my good friend, the US American writer Rick Harsch, has recently invited me to take part in the creation of his next novel "The Assassination of Olof Palme", which will include contributions from many other writers. The book will be published by River Boat Books and is slated for the summer of 2020. We shall see how the project turns out, but the very prospect of being able to participate in such a nutty undertaking has been enough to make me write again. I must say I like it immensely – especially as I'll be able to associate and link this work with my own third novel as well as the fourth one (if I ever manage to finish either at all). Ideas abound, but now for the hard part: to make them a reality.
Speaking of literary endeavours… There is now a slight possibility that my first novel might soon(ish) get released on paper, as an actual, tangible, physical book. While I will not reveal anything else until I am sure of it, one of the "byproducts" of the preparations for the potential "paper version" includes the release of a new updated electronic version of my debut novel on Kobo and other e-book platforms. The most recent proofreading/editing run was done by Rick's friend Larry Riley, who did a fantastic job finding a heap of leftover typos and suggested a ton of much-needed improvements. So even if the book ultimately does not get published on paper, I am profoundly thankful for Larry's insight – he has contributed a lot to a much-improved electronic version of the novel.
Apart from that, I've finally decided to release the three "main" albums by SUR, one of my former bands that would now be 18 years old if it still existed, on the current streaming platforms shortly. While I haven't seen any reason to do it in the past (as nobody gives much of a damn about such an exhumation), nowadays I don't see any reason not to do it. These albums will by no means be remastered or remixed or whatever. They will simply be reissued, in their original form, on the new platforms – solely for the sake of making them available to all three potential listeners that may still remember this band at all… But, more importantly, to ensure their continued existence in the form that people, especially the former SUR band members, can actually use. Indeed, we've come to the point where CDs have become terminally obsolete. What will I ever do with those boxes full of 'em now that I don't even own a CD player anymore…?

That's about it. I probably won't disappear for a year again after this post, though, because I'll be releasing Touring My Backyard, the first "augmentation" from the Tit album that I am reworking, as soon as I'm done reconstructing it. Working on that has been all sorts of annoying, I admit… But it certainly brings back memories!